This site is graphics intensive and the main page should take about one minute to load. Please be patient, the graphics are worth the wait! In order to cut down on the load time, I have created more that 50 pages of graphics, click on the page of your choice in the box below. I hope you enjoy your visit, please come back as items are added frequently.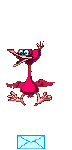 End of section - Use menu to go to another section!
---
Proud Member of Pysmatic Family Email Me Last Update August 24, 2002.